Battle of Pilkem Ridge July – September 1917.
This page is under construction. As I work through the Unit War Diary and those private diaries that have been kindly send to me, I will add content to this page. I am working through the history of the 130th (St John) Field Ambulance in chronological order and will fill this page with full detail in due course.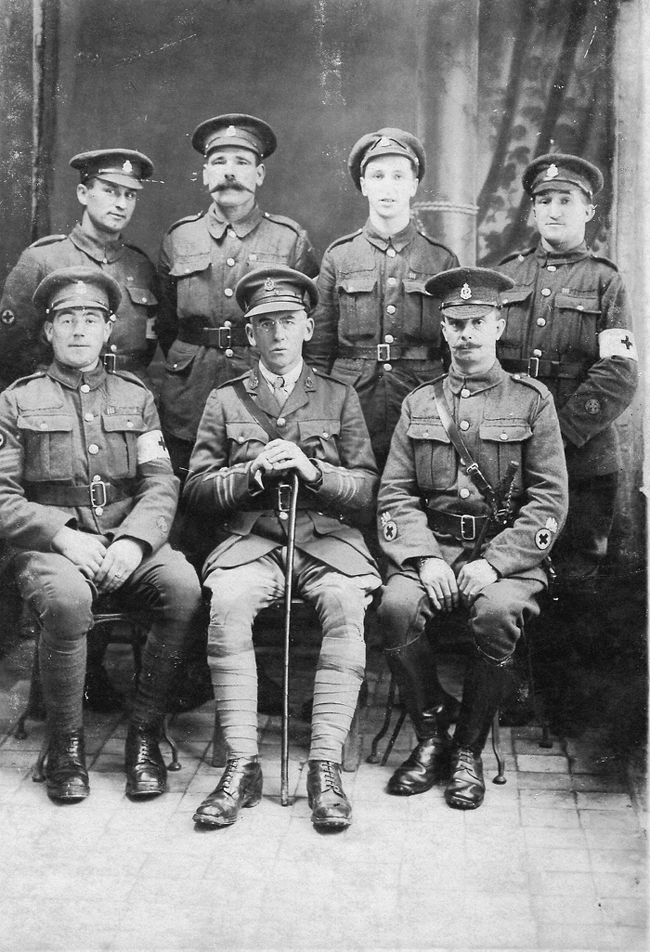 With kind permission of Helen Cleaves – Granddaughter of 48542 Pte James Cleaves.
The photograph above depicts the five men of the 130th (St John) Field Ambulance who were awarded the Military Medal in August/September 1917 for acts of gallantry during the 3rd Battle of Ypres (Pilckem Ridge). It had to have been taken before January 1918 as Sgt Maj Stroud was evacuated to a CCS in January 1918 and did not rejoin the Unit. In the front row (left to right) are, 48192 Sgt Ernest Sweeting M.M., Lt Col J.E.H. Davies, 48071 Sgt Maj W. Stroud and the rear row (left to right) are 48196 L/Cpl William George Thomas M.M., 48186 L/Cpl David J Samuel M.M., 48221 Pte Oliver Young M.M. and 48626 Pte J Probert M.M..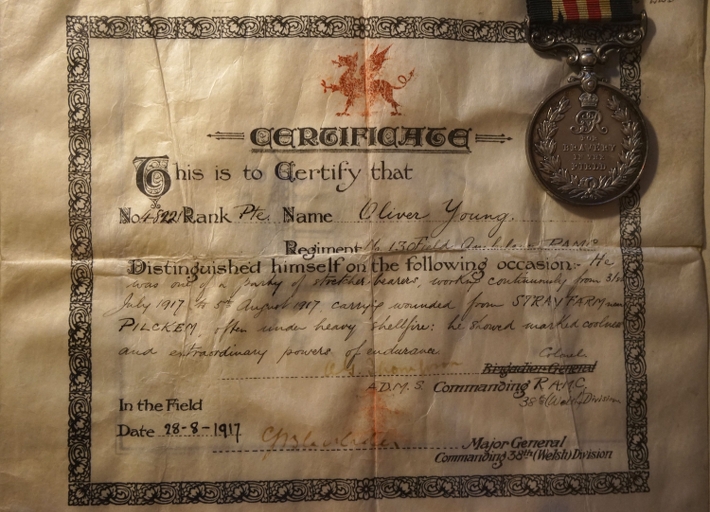 This photograph is by kind permission of Charles Young, Grandson of 48221 Pte Oliver Young M.M. This is the first example of a 38th (Welsh) Division Medal certificate we have ever seen and it is likely that all men in the Division (not just the men of the 130th (St John) Field Ambulance, who were awarded medals in the field, would have been given such a certificate but so few seemed to have survived or come to light.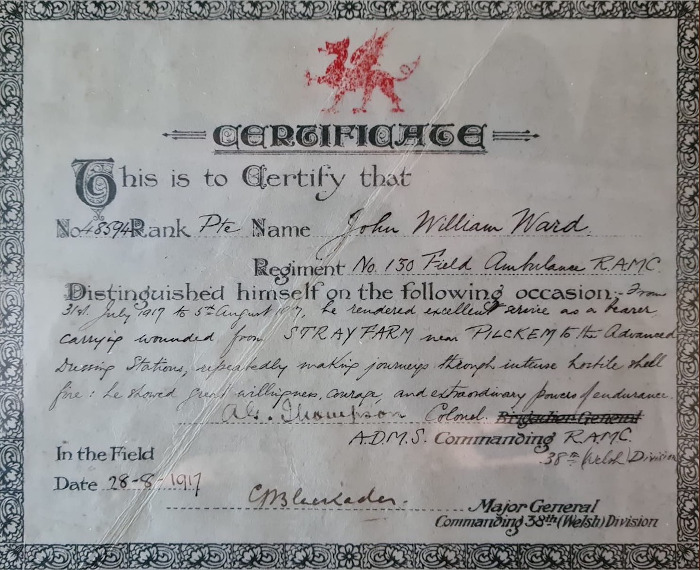 The Certificate abouve is with the kind permission of Mrs Jane Beecham, niece of 48594 Pte James William Ward. This is the second such certificate we have come across to men serving in the Unit. Divisional Certificates for Gallantry were the highest award that a Division could award on their own authority. Mentioned in Dispatches were from Army level and Medals by authority of the King. The designs of these certificates varied between Divisions and range from very plain paper forms to extremely ornate certificates. It is likely there were a number of men in the Unit that were awarded these certificates with just the 5 in the photo above going on to be awarded the Military Medal for the action at Pilkem ridge.