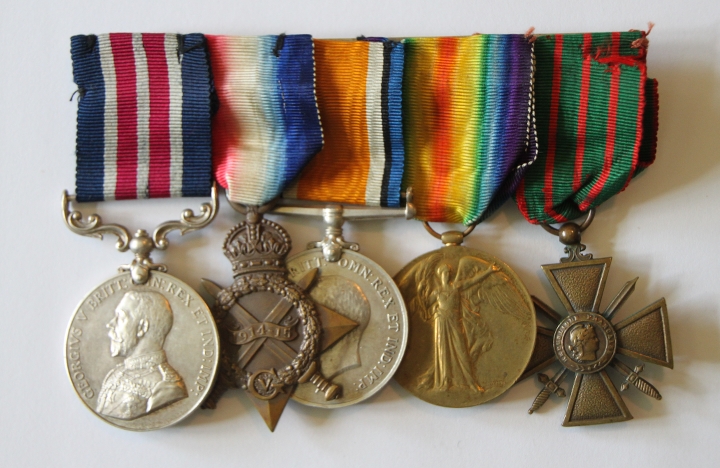 My eldest son collects military medals and periodically hands me copies of medal auction lists. While glancing through one early in 2013, I came across the medals pictured above awarded to 48192 Sgt Ernest Sweeting M.M.. They aroused my interest for three reasons. Firstly, he was in the Royal Army Medical Corps as I had been, secondly, that his unit, the 130th (St John) Field Ambulance was formed from men of the St John Ambulance Association and I had served in my younger days as a surgeon in the St John Ambulance and finally, his medals include the French Croix de Guerre. The final unit I served in before retiring my commission from the army was 243 Field Hospital which during the First World War was the 24th Field Ambulance, one of only nine British units to be awarded a unit Croix de Guerre. These three points of contact encouraged me to big for the medals and having successfully acquired them, I set out to research both Sgt Sweeting's history as well as that of his unit, the 130th (St John) Field Ambulance and their activities during the First World War. 
Shortly after the launch of this website, Stephen Lyons joined me as a co-researcher and established the Wales/Cymru branch of our research group. As well as setting up the Facebook page, he has and continues to spend many hours each week scouring archives in Wales and on the internet for information about the unit and the men who served in it as well as being an expert detective in tracking down relatives of the officers and men who served in the unit. His assistance has and continues to be invaluable. This site is the product of our research and is dedicated to the memory of the Officers and Men who served in the 130th (St John) Field Ambulance. We hope it will be of interest and value to anyone who wishes to research their relatives who may have served in it and to others who wish to have a greater understanding of the life of a Field Ambulance during the Great War.
We are most grateful for the help and assistance provided to us by the many relatives who have so generously shared photographs, diaries and letters with us which have enabled us to get thus far and we hope that as time goes by, others may contact us with further information that could be added to this site to better illustrate the men and their activities during WW1.
I am very thankful that the granddaughter of 48542 Pte James Cleaves Helen and her husband, now my co-researcher, Stephen Lyons have been of immeasurable assistance both by generously and kindly providing me with copies of numerous photographs of members of the unit and a transcript of his daily diary covering 1917 to 1918 and for Stephen joining me as a co-researcher in this most interesting journey.
I am very grateful to Pamela Willis of the Museum of the Order of St John in London who not only provided me with copies of the photographs of the Unit while in training in North wales in the spring of 1915 but also kindly pointing me in the direction of the book by C J Parry (The Story of the Order of St John in the Principality of Wales) which contains nearly 30 pages of text and photographs relating the history of the Unit from its formation in December 1914 to its final days in 1919.
Our thanks also go to C J Parry's grandson and the Hospitallers' Club of Wales for allowing us to reproduce some of the photographs from the book on this website.
Mr Rob McIntosh (curator) and his staff at the Army Medical Services Museum have been of great assistance and we are most grateful for the copy of the transcript of the diary of 48563 Pte I Phillips M.M. that they supplied to us that has helped add a great deal of detail to the Official War Diary of the Unit.
The grandson of 48119 Pte George Groves has generously provided us with a transcript of his grandfather's diary and photographs and other useful information relating to the Unit.
We would like to especially thank Eleanor, granddaughter of 48192 Sgt ernest Sweeting M.M. for being in contact and providing us with numerous photographs of her grandfather whose medals were the start of this research. Thank you.
Our thanks are also due to Adrian Jickells, grandson of 48554 Pte George Henry Jickells and to the rest of his family for giving us access to a transcript of his dairy.
We are further thankful to Ray Maunder, son of 48160 L/Cpl William H F Maunder for providing us with copies of photographs of his father and also extracts from his father's memoirs of his time serving with the Unit.
We are most humbly indebted to Mrs Marjorie Davies, daughter of 48098 Pte William Coleman M.M. for providing us with photographs of her father and his medals.
The family of 48128 Sgt Francis B Sumption have been most generous in giving us access to his diary and letters which have provided invaluable detail to the history of the Unit.
Likewise, we are so thankful to Helen Parry, granddaughter of 48135 Sgt Clifford William Jarman for allowing us access to his detailed dairy of his time in the Unit and so many photographs. This has be of immense assistance.
I can highly recommend to services of Jacqui Kenton (independent researcher at the Nation Library of Wales) who quickly and very efficiently carried out a very effective search of the Welsh local newspapers for me, thus avoiding me having to make a costly visit to the other side of the UK. I can highly recommend her services.
Finally, I must thank my good friend Paul Constable for his website building expertise for not only creating this site but his assistance in retrieving the data when it was so maliciously taken down by a cyber attack. Such skill is way beyond my limited capabilities.